Our association is run by an elected group of dedicated volunteers. Our Board is currently led by Dr. Irena Chiru and includes six members with separate, clearly defined portfolios.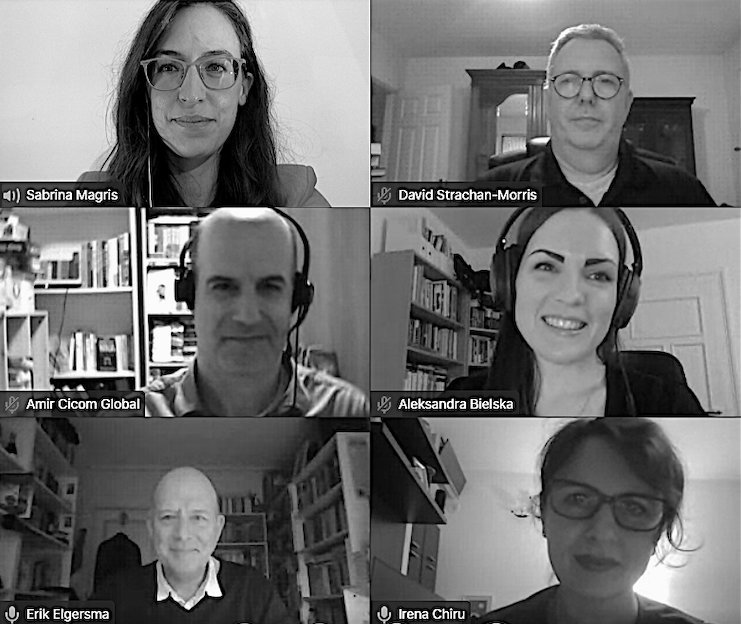 Irena Chiru
Chair
Irena Chiru is a professor of intelligence studies at "Mihai Viteazul" National Intelligence Academy, Romania. She holds a PhD in sociology from the University of Bucharest where she researched Romania's representations and heteroimages in foreign media. Currently she serves as the chair of the International Association for Intelligence Education – European Chapter. In the last 20 years, she has taught more than 200 scientific seminars and colloquia and given more than 30 educational talks on strategic communication and its impact on intelligence organizations. She has also coordinated research teams or joined international research teams involved in research projects dedicated to security and intelligence, including: Citizen Interaction Technologies Yield Community Policing (CITY COP, Horizon 2020 (2015-2018)), Culture and Risk Management in Man-made and Natural Disasters (CARISMAND, Horizon 2020 (2016-2018)) Evolving security science through Networked Technologies, Information Policy and Law (ESSENTIAL, Marie Skłodowska-Curie Innovative Training Networks European Joint Doctorate (2014-2020)), Mind the gap in media CoveRagE and Strategic Communication in CasE of security Threats (CRESCEnt, ERASMUS+ (2018-2021)), A Radical Model of Resilience for Young Minds (ARMOUR, DIGI Home (2019-2021)), and The Empowering a Pan-European Network to Counter Hybrid Threats (EU-HYBNET, Horizon 2020 (2019-2024)). Her latest publications include: "The National Intelligence Culture – A Piece in the Puzzle of The National Intelligence Culture" in The Conduct of Intelligence in Democracies: Processes, Practices, Cultures (Florina Cristiana Matei , Carolyn Halladay - eds., Lynne Rienner Publishers, Boulder, 2019) and "Security Gaming Scenario: A Pun Upon…Cards in a Multicultural Setting" (coauthor) in Art of Intelligence: More Simulations, Exercises and Games (Ruben Arcos Martin & William Lahneman - eds., Roman and Littlefield, New York, 2019).
Sabrina Magris
Portfolio: Research and Training
Sabrina Magris is the President of École Universitaire Internationale, Research and Higher Education Institute in Peace and Security Studies based in Rome, Italy. She is a lecturer in operational intelligence, counterterrorism, hostage negotiations, and neuropsychology as applied to intelligence and psychological operations. She is a NATO subject matter expert. She served as a consultant for the Organization for Security and Cooperation in Europe (OSCE) Presence in Albania – Security and Cooperation Department. In previous position, she also served as a supervising instructor for the Certificate of Training in United Nations Peace Support Operations provided by the U.S. Peace Operations Training Institute. She has developed new training methods and programs for practitioners, military, and police forces internationally and presents her research internationally. She also serves in the Editorial Board of the International Journal of Intelligence and Counterintelligence and the Romanian Intelligence Studies Review.
David Strachan-Morris
Portfolio: Education
Dr. David Strachan-Morris is a Lecturer in Intelligence and Security in the Department of Politics and International Relations at the University of Leicester, UK. He is the Programme Director for the Distance Learning MA in Intelligence and Security, and is Deputy Director of Distance Learning for the School of History, Politics and International Relations. Previously, he worked as a political and security risk analyst in the private sector and served in the British Army as an intelligence operator. He holds a PhD from the University of Wolverhampton, awarded in 2011. Dr. Strachan-Morris' research interests include intelligence, counterinsurgency, and private security companies. His recent publications include his first book, Spreading Ink Blots from Da Nang to the DMZ: An Analysis of the US Marine Corps Strategy in Vietnam, published by Helion in 2020.
Amir Fleischman
Portfolio: Industry
Amir Fleischman is the founder and managing director of Cicom Global. As an acclaimed international speaker, he delivers lectures, talks and workshops on competitive intelligence, business management, online research and social media, both in public and private sector. Amir serves as head of competitive intelligence courses at the Homeland Security Academy – Wingate College and at the Israeli Federation's Chambers of Commerce. He is also a former member of The Israeli Forum for Competitive Intelligence steering committee and editor of "The Intelligence" quarterly. Further, Amir is a thought leader at Strategic and Competitive Intelligence Professionals (SCIP), an international association dedicated to competitive and strategic intelligence. He is an editorial board member of "Competitive Intelligence" magazine, a former member of SCIP Global Business Executive Council and has written a number of articles for "I Am SCIP" and "Competitive Intelligence" magazines. Being an active IAFIE member, Amir has lectured and chaired panels at IAFIE's conferences in Europe and beyond. He is also the editor of the "IAFIE EC Industry Digest". In 2019 Amir won the prestigious IAFIE Instructor of the Year award.
Erik Elgersma
Portfolio: Treasurer
Erik Elgersma is a competitive intelligence and corporate strategy expert. For 26 years, Erik has worked in strategy and competitive intelligence at Akzo Nobel and FrieslandCampina. He is now an independent consultant. Erik holds a Ph.D. in engineering and is a Visiting Lecturer at the school of business and economics of the VU University Amsterdam and a Research Fellow at Vlerick Business School, Belgium. He authored three books in the field of competitive intelligence. Erik's core belief is that companies must 'compete on knowledge'.
Peter de Werd
Peter de Werd is Assistant Professor in intelligence and security at the Netherlands Defence Academy and has worked for the Netherlands Department of Defence in various positions and deployments over the last two decades. He has an academic background in both military sciences (Netherlands Defence Academy) and political science (Leiden University), and holds a PhD from Utrecht University, awarded in 2018. Recent publications include his first book US Intelligence and Al Qaeda: Analysis by Contrasting Narratives, published by Edinburgh University Press in 2020. His current research interests include contributing to the reflexivist and critical theoretical debate in intelligence studies, developing and implementing narrative methodologies for intelligence analysis, and innovating intelligence education.
Aleksandra Bielska
Portfolio: Board and Members Communication
Aleksandra Bielska is the Head of Training at a Zurich-based company i-intelligence where she leads the design and development of online, offline and capacity building solutions. Aleks has over a decade's experience as a consultant and educator, working with clients in Europe, North America and Asia to improve their intelligence and foresight capabilities. In addition to her work with i-intelligence and IAFIE EC, Aleks also serves as a Zurich Greater Area Manager of Swissintell, the Swiss Association for Market Research, Competitive Intelligence and Strategic Planning.